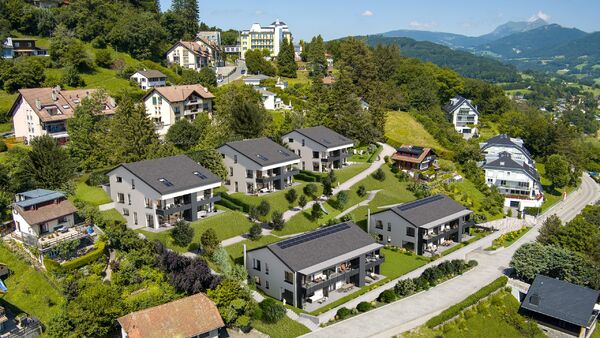 Situation
The Mont-Paradis residence is located in Mont-Pèlerin, in the heights of the commune of Chardonne

This typical and charming winegrowing village is easily accessible, and is located near to the main roads. The funicular and the local bus line take you to Vevey or Montreux in a few minutes.
The village is part of the Lavaux region, which is unique in Switzerland and is a UNESCO World Heritage Site. It has many views of the terraced vineyards overlooking the lake, as well as of the surrounding Alps and mountains. One of the most emblematic views of the region is from Mont-Pèlerin, where the "Plein Ciel" lift takes visitors up to 65 metres above the ground to admire the landscape.
Whether you are a sports, culture or gastronomy enthusiast or simply a nature lover who wants to live here without feeling isolated, there is something for everyone!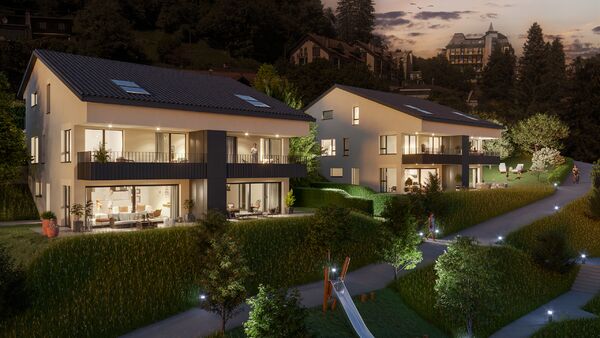 Municipality
With its famous vineyards, its hills and terraces, Mont-Pèlerin - Commune de Chardonne - is one of the pearls of Lavaux, a region bathed in light and authenticity, listed as a Unesco World Heritage Site since 2007 and very dynamic in terms of tourism. Mont-Pèlerin - Commune de Chardonne - is a very popular place to settle, as it is ideally located and enjoys a breathtaking view of the lake and the Alps. Adjacent to the town of Vevey - which offers a large number of amenities - and close to Montreux, this commune exudes conviviality, with a rich local life and a perfectly balanced well-being, between town and omnipresent nature.

A charming and unique place, located in the heart of the Swiss wine know-how, Mont-Pèlerin - Commune de Chardonne - is a great winegrowing village where life is good, in full awareness of sustainable development issues. Lovers of fresh air will appreciate the predominant nature and the invigorating walks on the stone terraces, on Lake Geneva or in the surrounding forest. Discovering the vineyards on the little train, the "parcours vita", visits to wine cellars, wine markets and jazz concerts, there is no shortage of activities here, not to mention the leisure activities and rich cultural programs offered by Vevey and Montreux.